Galloping through the year.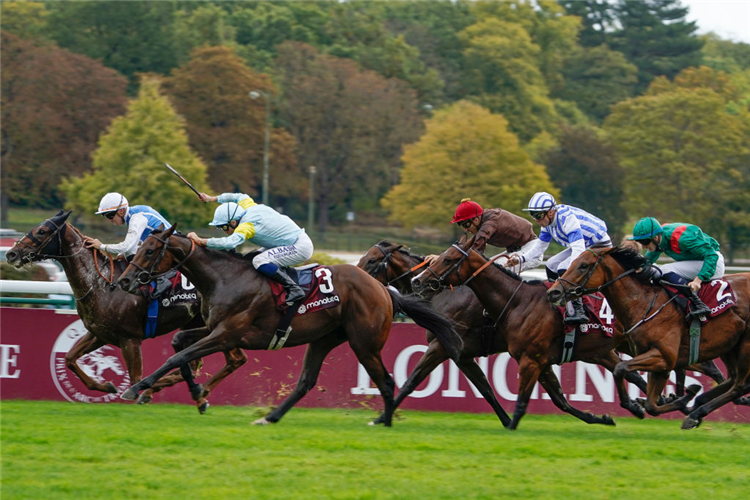 Spanning from February to November, the Defi du Galop series includes fifteen races - twelve on French racecourses and three internationally. Intended to promote flat-racing at provincial racetracks in France, the Defi du Galop offers an attractive bonus scheme of up to 200,000 euros. Points are awarded for each race win and top five finish. The winner of the series receives an additional 70,000 euros in prize money whilst the second and third win 20,000 and 10,000 euros respectively. Points are gained through to sixth place:
1st place = 6 points
2nd place = 4
3rd place = 3
4th place = 2
5th place = 1
The winner of the 2022 series was Shafaaf, trained by Jean-Claude Rouget, with 14 points. He achieved a win in the Listed Grand Prix de Bordeaux and picked up additional points by placing in the Listed Grand Prix de Compiegne. Points are also awarded to jockeys and trainers who participate in the series. Jean-Claude Rouget headed the trainer rankings in 2022 and received a bonus of 25,000 euros whilst Cristian Demuro won top jockey with a prize of 3000 euros.
A unique aspect of the Defi du Galop is the inclusion of three international tracks - Casablanca in Morocco, Avenches in Switzerland and San Sebastián in Spain. Due to its proximity to the border, Avenches tends to preferred international location for domestic runners. In 2021, French trainer Fabrice Veron won this leg with Moderator . Whilst Casablanca has not attracted French runners in recent years, the Grand Prix de la Sorec fulfils the intention of the series by promoting French flat-racing. The winner of the 2022 Copa de Ora at San Sebastián was Il Decamerone . Trained by Nicolas Paysan in Craon (FR), the seven year old is regularly campaigned in both Spain and France with success.
This year's Defi du Galop series is already underway. The calendar commenced with the Listed Grand Prix du Departement 06 run at Cagnes-sur-Mer on the 26th of February, where Mika D'O won ahead of Always Welcome and Pendulum Valley . Trained by Stefan Richter , it was a first listed success for the five-year-old who had who had previously won a top-level handicap at Saint-Cloud last March and this season placed twice at Cagnes-sur-Mer in two condition prep races before contesting and winning the opening round of the Defi du Galop series for 2023.
Over the next nine months, the Defi du Galop series will visit La Teste du Buch, Toulouse, Bordeaux Le Bouscat, Compiegne, Lyon-Parilly twice, Vichy, Avenches (Switzerland), Clairefontaine, San Sebastian (Spain), Craon, Strasbourg, Nantes, Marseille Borely, Casablanca (Morocco) and Toulouse.
This weekend's leg is the Prix Hyperi-gjanmestras.com (Class One) over 2000m at La Teste de Buch where Listed winner Russipant Fal Mor and Group placed filly Cantilena will attempt to defy weight penalties against the Jean-Claude Rouget trained Cagnes-sur-Mer Listed placed Glaer .