The 18th running of the Victoria Mile will be held on Sunday, May 14th and it is a 1,600m turf event at Tokyo Racecourse.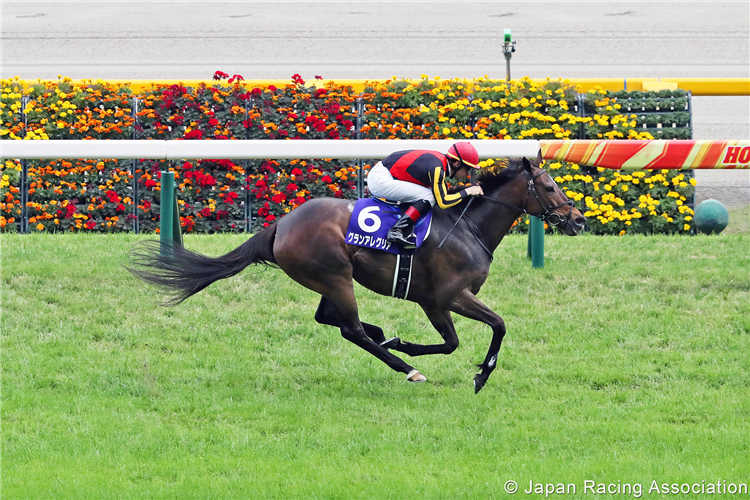 On Sunday, May 14, segued in amid the three top-level events for 3-year-olds at Tokyo Racecourse this month, is the Grade 1 Victoria Mile, a distaff for 4-year-olds and up. Now in its 18th year, the Victoria Mile has become known for its exciting mix of talent, and with Classic winners going up against tried-and-true milers, the race is also known for its upsets.
Not restricted to a once-in-a-lifetime chance, the Victoria Mile allows for repeat bids, and five nominees from 2022 are returning this year. They include the dazzling white Sodashi, who will attempt to score back-to-back victories in the Victoria Mile.
However, as is usually the case when the cream of the crop goes head to head, Sodashi will have dollops of competition. Three other nominees have landed one or more Grade 1s already. Two-time Classic winner Stars on Earth is seen as mile-loving Sodashi's biggest rival. Songline, 2022 Yasuda Kinen winner, and the only returnee this year to have come close in last year's Victoria Mile, is a miler and seen as a formidable rival.
Stunning Rose excelled in the Shuka Sho, and Namur, who has yet to capture a Grade 1 but has been so close many a time, are both formidable contenders.
The Victoria Mile starting gate is placed at the top of the backstretch and some 500 meters extend to the first turn. Halfway down the backstretch, an initial downward slope reverses sharply upward, then drops around the bend. With 450 meters to go, runners hit the Tokyo hill and the track rises quite steeply before leveling out with about 300 meters to go.
The Victoria Mile will be Race 11 on the Sunday card at Tokyo, with a post time in Japan of 15:40. This year's winner's check is JPY130 million (in the region of USD1 million) and all runners will carry 56kg.
Here is a look at some of the likely top picks.
Stars On Earth : A 4-year-old daughter of Duramente, Stars on Earth has yet to miss the Top 3 in her nine career starts. That is a dazzling achievement given that all but three of those races were at the graded level, and four of them were Grade 1s. This Sunday, Stars on Earth will be shooting for her third Grade 1 victory. Last year, she aced the Oka Sho (Japanese 1000 Guineas), the first race in the fillies' Classic three and continued with winning form in the 2,400-meter Yushun Himba (Japanese Oaks), the second of the Classics. In the triple crown wrap, the Shuka Sho over 2,000 meters at Hanshin, she finished third, only a half length and a nose behind Stunning Rose and Namur. Also, perhaps the most significant was her result amid mixed company last out in the Grade 1 Osaka Hai, where her astounding late kick took her to a second-place finish only a nose behind the frontrunner, the 5-year-old Jack d'Or.
Sodashi : Sodashi, too, has an astounding record from a slew of graded bids and is aiming for her fourth Grade 1 victory. A daughter of Kurofune, her only non-graded start in her 14 outings was her debut race, which started a five-race winning streak on her way to the 2021 Oka Sho, before she was stopped in the Japanese Oaks (finished eighth). The 5-year-old Sodashi returns to the turf for the first time since late November, when she finished third less than two lengths behind colts in the Grade 1 Mile Championship. Sodashi has finished in the Top 3 in all her six starts over a mile and won four of them. A jockey change looks to be in store this time, with Hayato Yoshida (the only jockey to have ridden Sodashi thus far) expected to be replaced with new partner Damian Lane.
Songline : Last year, the now 5-year-old Kizuna mare Songline returned from her first trip to Riyadh and a win of the Grade 1 1351 Turf Sprint to finish fifth here. She then made the leap to her first Grade 1 victory in the Yasuda Kinen some three weeks later. This year as well, she is returning from Saudi Arabia, but only finished 10th in the same 1351 Turf Sprint. She has taken well to the Tokyo mile, with three wins and one second from her five bids that include a second in the Grade 1 NHK Mile Cup and a win of the Grade 2 Fuji Stakes (both in 2021). Songline is also set for a new rider - Keita Tosaki. Tosaki has won nine Grade 1s before and three of them came on his first ride with a new partner. One was in 2015 with Straight Girl in her second Victoria Mile bid.
Namur : Still chasing her first Grade 1 victory after five previous attempts is the 4-year-old, Harbinger-sired Namur. She hasn't been wildly off the mark either. She has missed the board only once in her Grade 1 bids, and her most recent race, the Grade 3 Tokyo Shimbun Hai over the Tokyo mile, bodes well. Namur returns after three months off, following a second-place finish (lost by a neck to Win Carnelian) in the Tokyo Shimbun Hai. Though a Grade 1 has eluded her in her previous five attempts, she has made the Top 3 twice. Also, she has three wins and a second-place finish from her six starts over a mile. Her biggest loss was in the 2022 Oka Sho, where she had been disadvantaged by a wide draw and finished 10th. Fielded by the Ritto-based trainer Tomokazu Takano, Namur will be running alongside stablemate Stunning Rose as well. These two have met on the racetrack three times before, with Stunning Rose winning twice.
Stunning Rose : A daughter of King Kamehameha, who finished second in the Japanese Oaks and won the Shuka Sho last year, Stunning Rose is taking on a mile for the first time in six starts. This will be only her second time over the Tokyo mile, but her second in the Japanese Oaks would indicate the venue is not unsuitable. She returns from a strong fifth-place finish behind colts and horses in the Grade 2 Nakayama Kinen, where she finished only 0.2 seconds behind the winner.
Others to keep an eye on include:
Two Mikki Isle mares La La Christine and Meikei Yell should not be overlooked. In late February, the former won her first graded stakes race with victory in the Grade 3 Kyoto Himba Stakes over 1,400 meters at Hanshin, which is considered her best trip. Before that, in late November, she'd won the listed Capital Stakes over the Tokyo mile, indicating a mile is within the reach.
Following her fourth in the Grade 1 Hanshin Juvenile Fillies and a double-digit showing in the Oka Sho, Meikei Yell has been restricted nearly exclusively to trips of 1,200 meters, due largely to her difficult temperament. If she can show a bit more maturity, she may be able to take on a mile successfully.
Stellaria, a 5-year-old mare by Kizuna and runnerup in the 2021 Japanese Oaks, returned after nearly a full year off to score the Grade 3 Fukushima Himba Stakes, over 1,800 meters at Fukushima. A big horse hovering around 500kg, Stellaria has impressive late speed.