The 84th running of the Yushun Himba (Japanese Oaks) will be held on Sunday, May 21st and it is a 2,400m turf event at Tokyo Racecourse.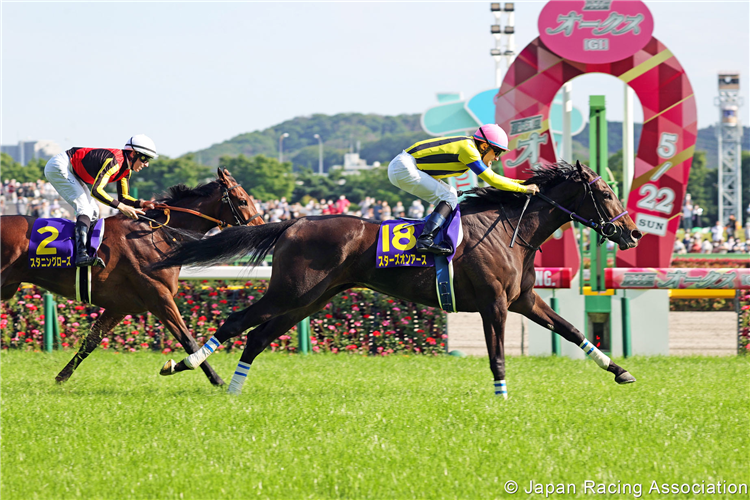 The big races at Tokyo keep coming thick and fast at this time of year, and this Sunday (May 21) sees the Grade 1 Yushun Himba (Japanese Oaks) next on the list of spring showpieces. The second fillies' Classic is run over 2,400 meters on the turf course at Tokyo, and with 21 nominations for the race, a full field of 18 runners can be expected on the day. All the 3-year-old fillies will carry a set weight of 55kg.
First run in 1938, this year will be the 84th Grade 1 Yushun Himba (Japanese Oaks) and some of the recent big-name winners have included Almond Eye (2018), Loves Only You (2019) and Daring Tact (2020). This year, too, another potential superstar in Liberty Island bids for top honors and another Grade 1 win.
A couple of races leading into this year's Grade 1 Yushun Himba (Japanese Oaks) have been the Grade 3 Flower Cup, run over 1,800 meters at Nakayama in March, and the Grade 2 Sankei Sports Sho Flora Stakes (an official Japanese Oaks trial), run at Tokyo in April over 2,000 meters. Perhaps the best form, though, remains the Grade 1 Oka Sho (Japanese 1000 Guineas) run at Hanshin in April, although the first fillies' Classic is run over a mile and, to some extent, guesswork is needed as to which of the runners can see out the extra 800 meters this time.
First favorites have won the Grade 1 Yushun Himba (Japanese Oaks) four times in the past decade, and the last one to find the winner's enclosure was Daring Tact in 2020. Record time for the race belongs to the now world-famous Loves Only You, who won in a time of 2 minutes, 22.8 seconds in 2019. This year's winner's check is JPY150 million (just over USD1 million).
This Sunday's big race is Race 11 on the Sunday card at Tokyo with a post time in Japan of 15:40. Final declarations and the barrier draw will be available later in the week.
Here is a look at some of the runners expected to take on the race:
Liberty Island : This year's Grade 1 Oka Sho (Japanese 1000 Guineas) winner looks as if she is something special and that will be confirmed if she can take out Sunday's big race. Assistant trainer Taku Fukunaga commented: "She was a long way back in her last race, but she certainly showed what ability she has when flying home at the finish. After that, she went to Northern Farm Shigaraki for a rest and came back to the stable on April 29. She seems very well and currently weighs around 480kg, which is fine for her." Trainer Mitsumasa Nakauchida and jockey Yuga Kawada make a formidable team, and only time will tell whether they can pull off the big win here with the filly by Duramente.
Harper : The filly by Heart's Cry has won once at Tokyo over a mile and finished a respectable fourth to Liberty Island last time in the Grade 1 Oka Sho (Japanese 1000 Guineas). Jockey Christophe Lemaire teams up with trainer Yasuo Tomomichi, who commented on the filly: "She couldn't run on at the finish last time, but I was pleased with her performance nevertheless. She's had a break at the farm with this next race as her target. She's filling out more and developing the right way." The top trainer has 17 JRA Grade 1 wins to his name, but the Japanese Oaks is not among them.
Perifania : The daughter of Maurice won on her debut as a 2-year-old, and has just had two races since, where she finished third in both of those runs. Trainer Yuichi Shikato said: "The winner last time is a very strong filly, and my horse's breathing wasn't quite at its best for that race, but she definitely has a lot of ability. The key to this next race will be the longer distance and her finding a good rhythm." Jockey Takeshi Yokoyama has ridden Perifania in all her races so far, and teams up with her again here.
Kona Coast : Damian Lane will ride Kona Coast for trainer Hisashi Shimizu in this week's big race. Kona Coast is by Kitasan Black, and she has a string of second place finishes after winning on her debut as a 2-year-old. Assistant trainer Michihiro Oshita said: "It was a perfect race for her last time, but she couldn't win because the winner was so strong. The distance this time will be longer, and as she isn't such a muscular type of horse, it should be better for her."
Light Quantum : It will be just the fourth start for Light Quantum, and after winning her first two career starts, she finished eighth to Liberty Island last time. Trained by Koshiro Take, this time jockey Hironobu Tanabe picks up the ride on the daughter of Deep Impact. Assistant trainer at the stable, Hiroshi Minai, commented on the filly: "She now weighs around 440kg, which is more than she did before her last race, and there's a good feel to her. We intend to have her race jockey ride her in work the week before the race."
Doe Eyes : Having had six career races to date, Doe Eyes might still be a work in progress, but she gradually seems to be getting the hang of things. She has won over a mile at Tokyo, and she did her best last time up against Liberty Island in the Grade 1 Oka Sho (Japanese 1000 Guineas) in April. Trainer Yasushi Shono said: "She was able to run on well at the finish last time to get to the next group of horses behind the winner. She still misbehaves a little and doesn't always run straight, but with more experience she should improve, and the extra distance this time should be better for her."
Golden Hind : Taking a slightly different path into this race, the filly by Gold Ship ran away with the Grade 2 Sankei Sports Sho Flora Stakes over 2,000 meters at Tokyo in April. It was her second time to run over 2,000 meters, and while it might be difficult to lead all the way over an extra 400 meters, she's an interesting runner here. Her trainer Yasuo Takeichi said: "When the eventual second came to challenge her last time, she found a bit more to go on and win. She's like that in training as well, and since that race she's been eating well and has kept her condition." Young rider Akira Sugawara retains the ride on Golden Hind and is looking for his first JRA Grade 1 victory.
Emu : She has won three times from seven starts, and while there was no getting to Liberty Island last time, the filly by Rulership has won twice over 1,800 meters, and is another one who could benefit from the step up in trip this time. Trainer Shoichiro Wada commented: "There was no damage after her last race and things are as usual with her. She's had quite a good workload in training, and this alone seems to have been good for her as she looks much better physically." Mirco Demuro takes the ride on Emu, and he won on her the only other time he's taken the ride.
Ravel : Trained by Yoshito Yahagi, Ravel was sent over to Tokyo for her second start, which she won over a mile. Since then, she's had a couple of tough Grade 1s, namely the Hanshin Juvenile Fillies and the Oka Sho (Japanese 1000 Guineas), when she finished eleventh in both races. Assistant trainer Yukihiko Araki said: "She drew a wide gate in the Oka Sho, but managed to run well considering this, and as far as getting into the race, she did better than the time before in the Hanshin Juvenile Fillies. It leads her nicely into this next race. She's had a break at the farm to reset, and returned to the stable on May 4."
Kita Wing : The filly by Danon Ballade has had plenty of racing experience, and while she might have found her two Grade 1 races to date a bit tough, her trainer Shigeyuki Kojima remains positive about her next race. "She raced from the back last time, and when the gap came on the inside, she took that route in the homestraight to eventually finish twelfth. The winner seems exceptional, but she had the second fastest final three-furlong time in that race. It seems like 2,000 meters would be good for her, but racing against her own age group and the distance of 2,400 meters, she's not at any disadvantage given the situation for the other runners," Kojima said.
So Dazzling
is also well worth a mention, and she's living up to her name with one win and two seconds in her three starts, and the filly by Heart's Cry will be ridden by Yutaka Take.