Tastiera wins this year's Tokyo Yushun (Japanese Derby) at Tokyo.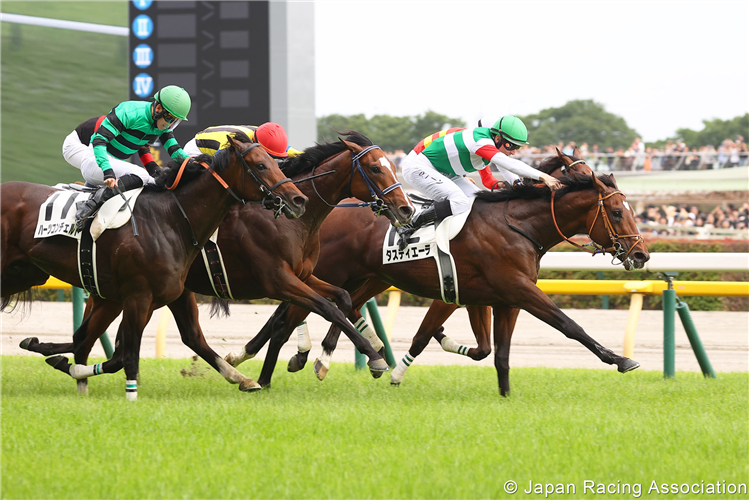 Fourth favorite and Satsuki Sho (Japanese 2000 Guineas) runner-up Tastiera turned the tables this time and powered to victory to notch this year's Tokyo Yushun, reaching the pinnacle of a total of 7,708 three-year-old thoroughbreds. As a first-crop progeny by sire Satono Crown, who was also trained by Noriyuki Hori and third in the 2015 Tokyo Yushun, the bay colt gave his sire his first G1 victory. After breaking his maiden last November (Tokyo, 1,800m), Tastiera was fourth in the Kyodo News Hai (G3, 1,800m) and went on to land his first graded win in the Yayoi Sho Deep Impact Kinen (G2, 2,000m) in March before finishing a 1-1/4-length second in the Satsuki Sho (G1, 2,000m). This marks trainer Noriyuki Hori's second Tokyo Yushun title following the 2015 win with Duramente, first JRA-G1 victory since the 2022 February Stakes with Cafe Pharoah and 15th overall. Jockey Damian Lane, who has ridden under short-term license since April 15, has now five JRA-G1 titles under his belt, his latest being last year's Mile Championship with Serifos. He also becomes the first foreign-based jockey since Mirco Demuro (2003, Neo Universe) to claim the Tokyo Yushun title.
After breaking from stall 12, Tastiera was positioned well in fifth and two-wide while Pax Ottomanica set a moderate pace way up front maintaining a huge lead into the stretch. Hitting the straight in fourth, the Satono Crown colt responded well to steadily close in, inheriting the lead from the pacesetter 200 meters out while repelling a determined challenge from Bellagio Opera from an inner route and a fiercely dueling Sol Oriens and Hearts Concerto on his outside to reach the wire a neck ahead for the win.
"It's a very special, great feeling especially for Hori Stables and Carrot Farm with whom I've had success with. It was definitely the position (today), and credit to the horse—he's so versatile, he could jump quick, put himself in a good position and relax. It's just a great sense of achievement," commented Damian Lane.
Heavy favorite and Satsuki Sho victor Sol Oriens broke well and sat in sixth, just behind the eventual winner, while Hearts Concerto, who was off slow and near the rear earlier, steadily made headway in the backstretch to catch up and enter the straight alongside Sol Oriens. Although unable to tag the winner, the Satsuki Sho champion held off the son of Heart's Cry by a nose for second place in a result of a fierce duel to the line, while being denied the possibility of a Triple Crown triumph by the winner by a neck.
Other Horses:
4th: (1) Bellagio Opera—took economic trip around 8th, showed fastest late speed
on inner stretch to rally for lead until wire, nose short for third place
5th: (15) Nocking Point—traveled behind winner, switched to outside at early
stretch, passed one by one
6th: (3) Ho O Biscuits—chased leader in 2nd, dueled with winner briefly, weakened
in last 100m
7th: (13) Season Rich—tracked leaders in 3rd, failed to sustain bid in last 200m
8th: (14) Phantom Thief—sat 3-wide around 10th, lacked needed kick
9th: (10) Shazzan—settled around 10th, angled out, passed tiring rivals
10th: (7) Hrimfaxi—hugged rails around 10th, switched to outside at early stretch,
even paced
11th: (18) Satono Glanz—unhurried around 14th, showed belated charge
12th: (8) Metal Speed—raced in 4th inside winner, remained in contention until
300m out
13th: (16) Pax Ottomanica—set pace, maintained lead up to 200m pole, ran out of
steam
14th: (4) Top Knife—stumbled and ran in 15th, entered lane in last, showed belated
charge
15th: (9) Gruner Green—traveled around 8th, showed little after final corner
16th: (6) Shonan Bashitto—broke poorly, trailed in rear, no factor
17th: (2) Skilfing—saved ground around 12th, advanced on outer route in
backstretch, outrun at stretch
FF: (17) Dura Erede—stumbled at break and lost rider