Trainer Dan Skelton reported Protektorat to be in excellent form ahead of the defence of his Betfair Chase crown at Haydock on Saturday.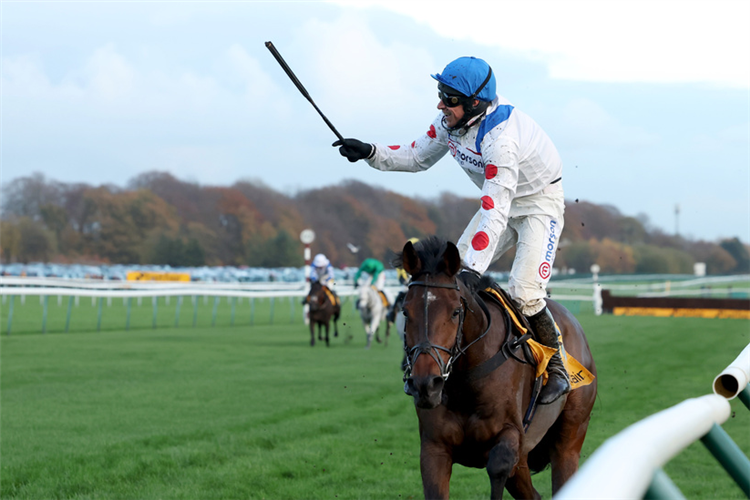 Protektorat will bid to join an illustrious list of multiple Betfair Chase winners, with the late great Kauto Star the only horse to win it four times.
Skelton was heavily involved with Kauto Star's Betfair Chase successes as assistant trainer at the time and the Warwickshire-based handler soon enjoyed his own Haydock Grade 1 glory when saddling Protektorat to victory twelve months ago.
Speaking on a call arranged by The Jockey Club today, Skelton hailed the importance of the Betfair Chase in the National Hunt calendar.
He said: "I was working for Paul Nicholls when he won it with Kauto Star and the Betfair Chase is one of the 'biggies' of the year, up there with the Gold Cup and King George.
"It was fantastic to win it last year as it is one of those lifetime races and hard enough to get a runner in it, so when you have your chance, you have got to try and take it. If he can be a dual winner, all the better.
"The Betfair Chase is his big pre-Christmas target, and we are not taking our eyes off it. It is the race we are training him for.
"He has a King George entry, and we will consider all other options after a week on Saturday, but the Betfair Chase is his number one target, and it gives me the confidence to think that we can put up a good defence of our crown."
Protektorat hasn't been seen since finishing fifth in the Cheltenham Gold Cup in March, but Skelton is happy with his preparation stating, "On Saturday you'll see him at his best".
He continued: "I am very happy with Protektorat. I wouldn't mind if he runs the same way as he did last year at Haydock – I could live with that!
"He goes back to Lisa Hales' [part-owner] for the summer and always does well by putting on condition but not becoming too gross.
"We then start back with him in the first or second week of July and he is a very enthusiastic work horse – if anything he gives a bit too much and you are always trying to calm him down a bit as he is so keen to please. I suppose that is also the reason why he is good when fresh as from the second he comes in, he is on your team and wants to get himself as fit as you are trying to get him.
"He is in good form, and we've managed to get him to our grass gallops a couple of times this year, which is vitally important for him. We have to train him slightly differently from our other horses as he is not trained on the hill – we have to use the soft sand gallop for him predominantly.
"His health and wellbeing are good, and his fitness is right where we want it to be. That there has been rain all over the UK, including the Northwest, will suit him."
"You can't go to the Betfair half soaked; you've got to be ready for it.
When asked about potential opposition and the advantage of winning the contest last season, Skelton added: "I wouldn't call it a home match for us as he's only done it once, but he's answered the questions before, in those conditions at that trip. By their own admission, the trainers of the likes of Shishkin and Bravemansgame are looking at the King George."
When looking at future plans further down the line, Skelton suggested a tilt over Aintree's Grand National fences was not completely out of the realms of possibility.
"We rode him in the Gold Cup as if he'd stay four miles and because we were so aggressive, we gave him the opportunity to weaken going to the last and that is what happened," said Skelton.
"We half talked about a National entry last year. While it's not headline-worthy that we'll enter him in it, and there's a lot of water to go under the bridge before entries are even considered, but we thought about it last year.
"By the same token, we also discussed dropping him back in trip. That is what happens when you get beat, you think of things you can do different. When you win, you just do the same thing."
Sponsor Betfair make Protektorat its 6/5 favourite for the extended three-mile and one-furlong top-level contest.