England manager Gareth Southgate has been pleased with his side's performance during an unbeaten 2023, but knows that his side must improve if they are to stand any chance in Germany next summer.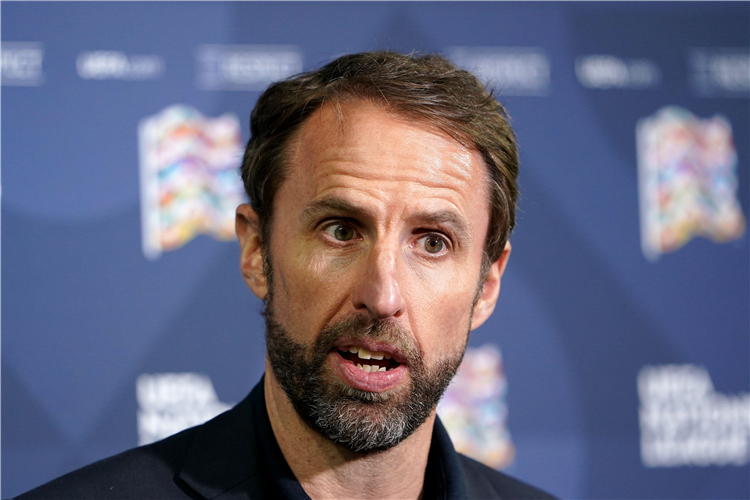 The lacklustre 1-1 draw at North Macedonia followed a flat display in their 2-0 victory against Malta on Friday, which attracted criticism from fans.
However, they secured top spot in the group and a pot one place for the UEFA EURO 2024 draw, which means they will avoid world cup finalists France and hosts Germany in the group stage.
Southgate realises that England must improve if they want to change the colour of their medals from silver to gold and he thinks his side will have learnt lessons from an international break that will not last long in the memory.
"We wanted to look at a few different things as well, so we've managed to learn from the game as well as the result," the England boss said in Skopje.
"I have to be pleased with the progress of the team. You know, if you'd said at the start of the campaign that we would be eight wins, two draws at the end of the year, it's a pretty good record given the fixtures that we've had.
"(North Macedonia) was always a game where we knew if you'd needed to come here for that point to qualify would be a very difficult place to come. They took the draw from Italy as well, so credit to North Macedonia for that.
"We can now start to look forward. We've got these two exciting games in March to look forward to and prepare for.
"So, yeah, I think we've done a lot of things well, but there's always room for improvement."
March's home friendlies against Brazil and Belgium will provide much-needed challenges in the final meet-up before Southgate selects his 23-man squad for Germany.
Two further preparation games will follow before the Euros get under way, with the December 2 draw in Hamburg providing clarity on next summer's opposition, base camp and potential route to the final.
England's draw against Macedonia secured their place among the top seeds for the Euro 2024 draw and Southgate said: "In the calendar year we're eight wins and two draws from a particularly tough qualifying group and certainly a friendly in Scotland that was always going to be challenging.
"Of course, you'd like 10 wins out of 10 but not many teams do that.
"I'm really pleased with what the players have given – not just the players that are here tonight, but the players that have represented us through this year because they've been excellent."
Harry Kane has, unsurprisingly, been among the standout performers this year but questions about the Bayern Munich sharpshooter's back-up remain.
Callum Wilson, Ivan Toney, Eddie Nketiah and Dominic Calvert-Lewin have all been selected in recent times, but Ollie Watkins is the current frontrunner for the job.
The Aston Villa striker had the chance to underline that status against Macedonia but was replaced by Kane just 58 minutes into a frustrating night in Skopje, where the skipper made an immediate impact as he forced Jani Atanasov into an own goal equaliser.
"Look, it was a difficult game," Southgate said when asked about Watkins. "Very little space, back five, so we're dealing with three centre-backs, really, and we weren't quite able to create the clear chance for him.
"But he did fine. It's not easy when you're coming in in those circumstances but that's international football.
"Of course, he's had games where there's been more opportunities to score and he's done that well with us.
"(This) was a different sort of test and, yeah, as a team, it was hard to find the spaces and find the gaps even though moments Phil (Foden) found lovely little passes and Trent (Alexander-Arnold) did.
"It was so crowded around the edge of that box to find those clear chances for our forwards."