England boss Gareth Southgate says he can "take far fewer gambles" with his Euro 2024 squad compared to the previous two tournaments.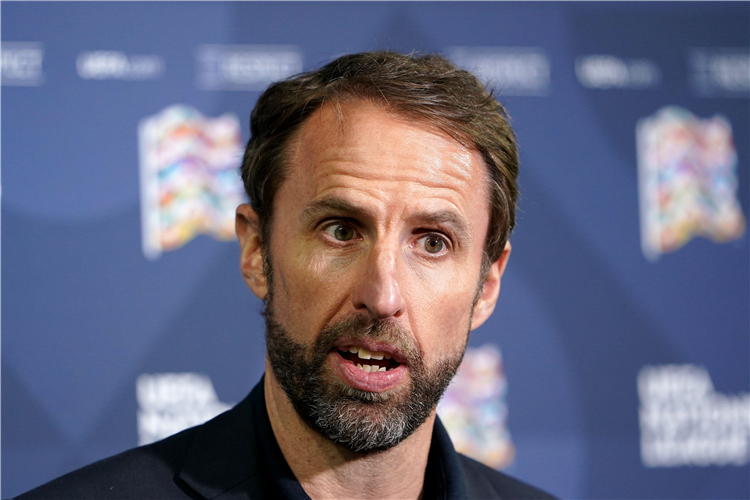 Next year's competition will see a return to relative normality after the delayed, Covid-impacted Euro 2020 and an unprecedented winter World Cup in Qatar.
Increased 26-man squads were introduced for both of those tournaments, but UEFA has confirmed the size of selections will return to 23 players in Germany.
"It makes it a different sort of thought process because you've had that leeway in the last couple of tournaments to take players that weren't going to be fit for the first couple of games," England boss Southgate said.
"Or a bit of cover in certain positions that you might or might not have needed.
"This time the physical conditioning of players is going to be really important. The ability for players to bat out six, seven games.
"We know having been to the end of two tournaments that physically the demands on that is far greater than we would have known had we not been through that experience, so we know that is a huge requirement.
"If you can only sort of take two for each position, players that are adaptable are helpful, players that can play more than one position are helpful.
"But equally players that are physically vulnerable we will have got to think very carefully about."
The enlarged selection at Euro 2020 helped Southgate include Jordan Henderson and Harry Maguire. The former had not played since the February due to groin surgery and the latter missed six weeks with an ankle injury, returning to action in England's final group game and going onto be earn a place in the team of the tournament.
As for Qatar, Southgate was able to include Kyle Walker and Kalvin Phillips despite a lack of fitness following groin and shoulder surgery respectively.
Asked if players needed to be fit to be on the plane to Germany, he said: "I wouldn't say all 23.
"But we can take far fewer gambles than we were able to take for the last two tournaments where it was 26."
Long-serving number one Jordan Pickford is sure to be a key part of the squad next summer and is away with England at a time when his club side are in the headlines.
It was announced in the hours before Friday's 2-0 win against Malta that Everton had been deducted 10 points after being found to have breached Premier League financial rules.
"I haven't spoken to Jordan about it," Southgate said ahead of Monday's final Euro 2024 qualifier away to North Macedonia.
"The rest at the minute is speculative, so we'll just have to see as and when anything happens.
"He has coped really well with a couple of really difficult seasons at Everton, where they've been in the lower reaches of the league.
"So, if the ultimate decision is as has been said – I am guessing there will be some sort of appeal – then it's a scenario he's been through and actually been a really important player for."