England manager Gareth Southgate has emphasized that performance is the priority for his team in their upcoming match against North Macedonia, as they look to make up for their lackluster victory over minnows Malta.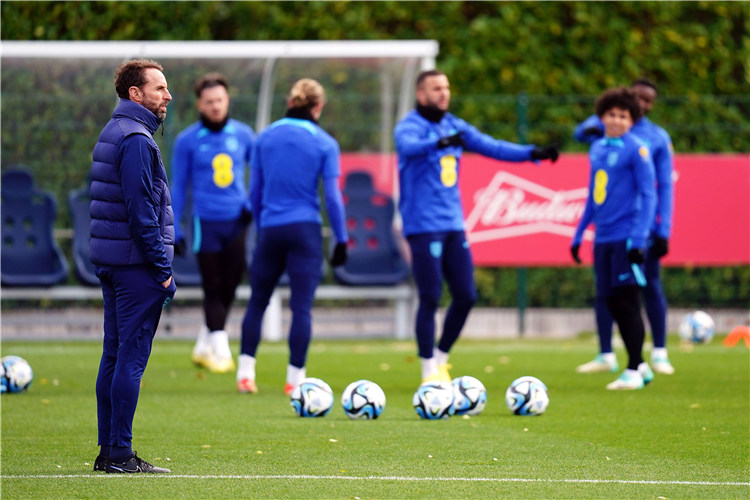 The team that finished second in Euro 2020 qualified for the next edition of the tournament with two games to go, but they played below their usual standard in their qualifier on Friday.
England disappointed a packed Wembley crowd by limping to a 2-0 victory over Malta, leading the manager to suggest his players had subconsciously taken their foot off the gas.
Southgate did not castigate those that have done so well for him over the years, but he is demanding a vastly-improved display in North Macedonia as they bring the curtain down on 2023.
"Performance is the priority," Southgate said.
"We've set a standard. We didn't reach that standard on Friday. We have to get back to what we're good at. There's always a chance within that to have a look at a couple of things that we'd like to see as well.
"But the biggest thing is making sure we hit the level of performance that we've set ourselves."
England's final match of the year is also set to be their last on foreign soil until the Euros get under way in Germany.
A sold-out Tose Proeski Arena awaits despite the Macedonians' qualification hopes already having gone up in smoke, with revenge the main focus on Monday.
Few saw June's 7-0 Old Trafford annihilation at Old Trafford coming and Blagoja Milevski's men are looking to get a famous result having drawn at home to reigning European champions Italy since then.
"We weren't at the level of performance that we want on Friday, so all focus on tomorrow's game," said Southgate, whose side have so far gone unbeaten this year.
"We play a team who, although they can't qualify, have tremendous pride and they'll be wounded by what happened in Manchester.
"We have to be ready for a really good atmosphere. Full crowd, full stadium. We've had a calendar year where we've been very good, so we want to finish well."
England's final camp of the year has been disrupted by absentees.
Five players withdrew from the original squad through injury and two more departed the squad before they flew out to the Balkans.
The Football Association announced Kieran Trippier had gone home due to a personal issue, while injury meant Jarrod Bowen left the camp on Sunday.
"Unfortunately, Jarrod picked up an injury," Southgate said. "I think he felt it a little bit yesterday and then again at the end of training today.
"We didn't really have enough time to assess it fully and make a really accurate decision before the game, so we felt better to leave him in England so that he can get it properly assessed.
"I don't think it's got to be anything serious, but we just didn't have enough time and we wouldn't take a risk in that situation."
Bowen was in line for a substantial role for rotated England on Monday, so too Trippier.
The versatile Newcastle full-back's withdrawal underlines the dearth of options at left-back in the absence of injured Luke Shaw and Ben Chilwell.
"We need to adapt," Southgate said. "We've got a couple of different options and we're comfortable with it. We can find a good solution to the issue.
"We haven't got somebody that is playing there regularly, but we've adapted to lots of situations over the last few years and we're comfortable with doing that again tomorrow."
Asked about the options and formation switch, he added: "We probably have done it a little bit on personnel going back a few years.
"So, yeah, that is an option. We've obviously got players that have played as wing-backs. We can adjust. We've got Fik (Fikayo Tomori), of course, who did it the other day, Rico Lewis, Marc Guehi can play across there.
"He's done that for us in a game before so it's just making sure that everybody's aware of their job. It changes the way maybe you build up patterns and those sorts of things, but we're comfortable with the situation we've got."