Barcelona and Spain midfielder Gavi has ruptured his anterior cruciate ligament in his right knee, the club have announced.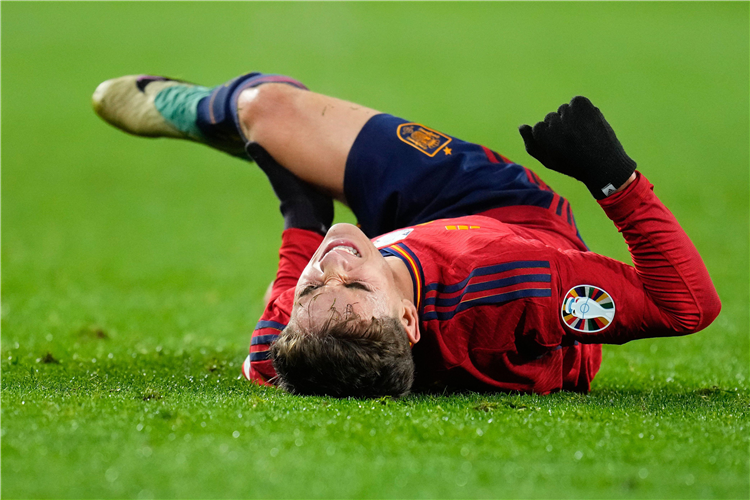 The 19-year-old sustained the injury while playing for Spain in their Euro 2024 qualifier against Georgia on Sunday, and limped off the pitch in the first 25 minutes of the game.
Barca announced in a statement that tests conducted on Monday morning have revealed that he has "a complete tear of the anterior cruciate ligament in his right knee and an associated injury to the lateral meniscus".
He will undergo surgery in the coming days.
The extent of the injury is a big blow for Barcelona, who are currently third in LaLiga, with Gavi having established himself as a key player in their squad since making his debut at 17 years old in August 2021, making 111 appearances already.
He won the league title with Barca last season and has played 15 times for them this term.
Spain went on to win the match against Georgia 3-1 and Barcelona team-mate Ferran Torres celebrated his second-half goal by holding Gavi's shirt up.
Speaking after the match, Spain boss Luis de la Fuente described the win as "bittersweet".
He said: "It's one of the most bittersweet victories I've ever had. As far as I can remember, it's the hardest, the bitterest of moments, to see an important player like Gavi sustain an injury like that.
"It's a very difficult moment for the player, for his club, for the RFEF (Spanish Football Federation), for the national team and for all his team-mates. In the dressing room it felt like we had lost. This is the ugly side of football.
"Football is a risky activity occasionally, something we often forget to appreciate. It was an unfortunate incident, but Gavi was perfectly fit to play the game and it was just unlucky, really, really unlucky."